View Photo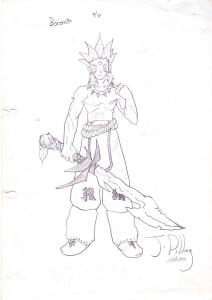 A warrior or perhaps more like a barbarian, no Armour just one big ass sword, highly adapted from the final fantasy theme i kept it down to as little shading as possible, i actually drew this one on the 1 hour bus journey back in my university days.
Date: 19/11/2006 20:40
Added by:
admin
Dimensions: 700 x 990 pixels
Filesize: 66.17kB
Comments: 0
Rating: None
Number of views: 3400
Post Comment
Please Login to Post a Comment.
Ratings
Rating is available to Members only.
Please
login
to vote.
---
No Ratings have been Posted.