View Photo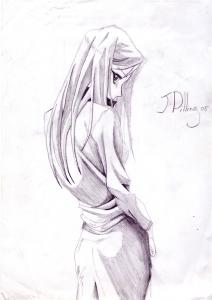 Valencia is a character from the story 'Valencia - The beginning' which is a story i am writing about a young woman caught up in exile and war, this was a pencil drawing of her i did inspired by some random anime picture i remember seeing once.
Date: 19/11/2006 20:35
Added by:
admin
Dimensions: 700 x 990 pixels
Filesize: 92.48kB
Comments: 0
Rating: None
Number of views: 2910
Post Comment
Please Login to Post a Comment.
Ratings
Rating is available to Members only.
Please
login
to vote.
---
No Ratings have been Posted.